In a world of vast consumer choice, the key differentiator for brands is no longer price and product. It's the customer experience.
Shippers know — it's been shown time and time again — that for today's online buyers, a major part of that experience is overall shipping satisfaction. Shipping and delivery quality have a stronger correlation to brand loyalty than any other single factor. Many of today's shoppers will simply refuse to go back to a retailer that gave them a late delivery or other poor shipping experience.
UPS's latest edition of its annual "Pulse of the Online Shopper" report resoundingly echoes other recent research, in illustrating that two of the key components of the customer experience, in the eyes of customers, are transparency and delivery. Let's look at how transparency feeds back into the shipping program.
What Is Transparency?
The digital age has made us all into knowledge gatherers. In the e-commerce world, it has been dubbed the Age of Customer Expectations. With the profusion of marketplace and omnichannel shopping, customers have choices; they no longer have to settle for anything less than total control over their delivery experience. They want it fast and free, or at least they want to be empowered by a range of choices that put them in control.
Of shoppers responding to the UPS survey, 94% said they want a guaranteed delivery date, while 95% want to see all shipping prices and options up front. Customers demand transparency into all details of the order — products, pricing, shipping costs, delivery estimates, even return policy — before checkout. Without it, they're happy to move on to another retailer without clicking your Buy button.
The Canary in the Coal Mine
Research has repeatedly shown that as much as 70% of online shoppers habitually abandon their carts. In the last five years, multiple studies have found the top reasons for abandonment to be fairly consistent, with high shipping costs or long, cumbersome checkout processes frequently topping the list. Other contenders, according to a 2019 study conducted by the Baymard Institute, include high extra costs not revealed until checkout (55%), the need to create an account (34%), bad delivery program or returns policy (27%), and inability to see total costs (21%).
Compare this with the key retailer-driven reasons for cart abandonment in the UPS report: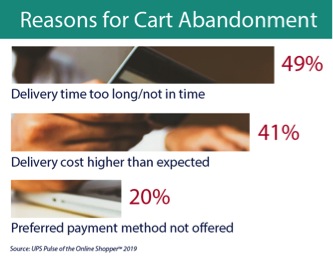 Consider the real significance of cart abandonment. Ninety percent of consumers perform research before shopping online. Per the UPS report, the most important factors they're looking for are price, product details, and delivery costs. These shoppers are invested in the entire customer journey. Abandonment means your customers might be undertaking a significant amount of research, comparison shopping, landing on your brand, and deciding to buy — then ultimately throwing away all that work, simply because your checkout process and shipping program don't meet their expectations.
How Important Is Delivery Speed?
The good news about "fast and free" delivery is that, increasingly, it's negotiable. If you can't offer free or accelerated shipping, focus instead on empowering your customer experience with choice.
In the UPS survey, shoppers reported having taken various actions to qualify for free shipping: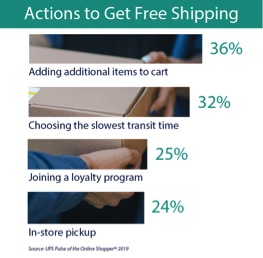 Here are some of the other delivery options that shoppers were willing to consider in the future: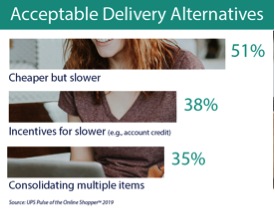 Twenty-two percent were also willing to simply be asked if they needed the item right away. This form of polite engagement was even more popular among the younger generations surveyed.
For most shoppers, shipping cost, not speed, is still the top priority. After product quality, shipping satisfaction is among the top factors influencing brand loyalty today. So why not let the customer "own" the decision between cost and speed?
It's clear that in 2020, an engaging customer experience that promotes brand loyalty will include both transparency and flexible shipping options. How you deliver might be more important than what you're delivering.
The problem is, that in the scramble to meet customer demand, many shippers design unprofitable, unrealistic shipping programs that quietly drain their profits. Why is this so?
Simply put, they underestimate their shipping costs, often by a staggering margin. That means they don't actually know what to charge customers. You could be paying more to ship your parcels than your customers are.
What Does Success Look Like?
One thing separates the exceptional shipping department from its average or struggling counterpart, and that's data. In e-commerce, a few key reports can make the difference between a struggling retailer and a profitable one. Your own shipping data, properly harnessed, contains the insights that can add real points to your bottom line.
Exceptional departments set themselves up to access the concrete data that equips them with unique insights into their business. Then they use their shipping patterns to build an intelligent feedback loop, and develop dynamic programs that delight customers and become profit centers.
The data problem usually stems from projection-only application of carriers' reported rates. Most e-tailers and B2B shippers manage shipping through a transportation management software (TMS) system alone. But the TMS doesn't factor in the many variables that come into play when a package is in transit, and these are the variables that ultimately cause cost creep. With so much at stake, it's critical to identify these "vampire" patterns.
Hidden costs include the usual suspects: surcharges and accessorial fees, for errors relating to dimensional weight, large package and address correction, among others. These extra costs, particularly the accessorials, aren't part of the equation until the package is actually delivered. After-the-fact charges can cause your parcel costs to rise by as much as 35% over TMS predictions. Even surcharges announced by the carriers might not carry over to your TMS, because many outdated or limited systems fail to include recent surcharge data.
Even as major parcel carrier rates continue to rise, so too do customer expectations. With online retail growing at a jaw-dropping 24% annually, there's no time to wait. Parcel carriers will continue to add costs without blinking, and you need to be able to react.
Work on capturing the disparity between predicted and actual costs at a granular level, to find your company's pricing sweet spot. Augment your TMS workflow with a data-analysis dashboard or shipping-optimization partner that will incorporate your actual cost data to find opportunities for savings. Armed with the right information, you can devise precise programs for your shipping schedule that will make the customer experience pleasurable and memorable — and make the difference between profit and loss on your parcel shipments.
Ken Wood is president and founder of LJM Group.